Gene Delivery Technology Core
Contact information
Gene Delivery Technology Core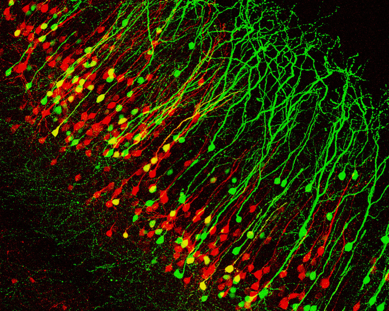 The image shows ventral CA1 hippocampal (vCA1) neurons that project to either the mPFC (green) or amygdala alone (red), as well as vCA1 neurons that project to both areas (yellow). A dual retrograde viral tracing approach using HSV vectors was used. Contributed by Woong Bin Kim and Jun-Hyeong Cho. J Neurosci 2017. 37:4868-4882.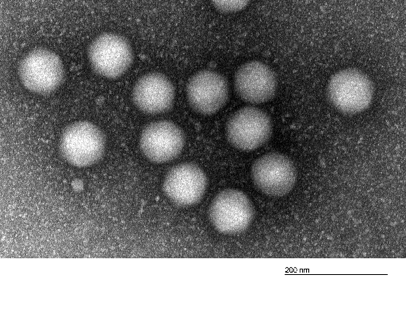 Transmission electron microscopy image showing the structure of the HSVs that are offered by the core. Note the purity of the preparation. Giovanni Morson and Rajib Schubert
SPECIALIZING IN NEURONAL CiRCUITS AND BEHAVIOR
YOUR SOURCE FOR:
-superior retrograde vectors - nontoxic and persistent
-CRISPR vectors
-local vectors for behavioral studies
-cell type-specific vectors
-zebrafish vectors

EXTENSIVE INVENTORY OF IN-STOCK VECTORS, INCLUDING:
-DREADDs
-GCaMP6s,m,f
-Channel rhodopsins
-cre and flpo

CRE-DEPENDENT VERSIONS OF ALL VECTORS ARE IN STOCK
The Gene Delivery Technology Core was established at Massachusetts General Hospital in 2017. Co-directed by Rachael Neve and Frederick Boyce, its overall goals are to provide the most advanced viral vector technologies, and to drive the development of new applications that will benefit neuroscience research.
Viral vectors are a key technology for neuroscience research, allowing delivery of genes into the brain to manipulate brain function. In addition to their speed and cost advantages, viruses can be delivered with spatial and temporal specificity, and in some cases can be engineered to produce cell-type specificity of expression. Importantly, viruses can also be used for genetic manipulation of species for which germ-line transgenic methods are not feasible. The Gene Delivery Technology Core offers a wide variety of HSV and AAV vectors for neuronal research. In addition, we offer BacMam and Baculoviral/Insect cell vectors for non-neuronal protein expression studies.
The core has an active research and development program, resulting in the continual addition of new types of vectors.
Note:
All international orders must total a minimum of $800, and all extramural US orders must total a minimum of $400.
All users must complete an online order form; no project will be initiated until this form has been submitted.