Outpatient Sleep, Circadian and Activity Rhythms Core
Contact information
Sleep and circadian rhythms (e.g.., timing) can be an exposure, moderator, mediator and/or outcome of physiology. Sleep disorders also affect the risk and severity of many health outcomes.  Sleep health has many facets including: Timing, Duration, Regularity, Efficiency, Subjective Quality/Satisfaction, and Daytime Alertness,
Let us help you add sleep health and circadian rhythms  metrics to your research and clinic!
The Outpatient Sleep, Circadian and Activity Rhythms (OSCAR) Core (Elizabeth Klerman MD PhD, Core Director) provides the scientific expertise and technical support to facilitate the rigorous collection, processing, and analysis of outpatient sleep, actigraphy, and circadian rhythms data for human studies. Dr. Klerman is also available to provide expert consulting on study design and interpretation related to incorporating sleep and circadian assessments into ongoing and planned human clinical research studies.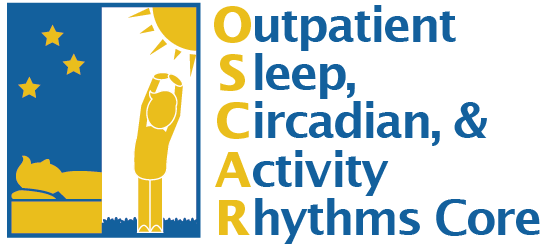 The Core is housed within the MGH Division of Sleep Medicine and serves as a nucleus for collaborative interdisciplinary sleep research at MGH and broader MGB community.
Core services:
Actigraphy

Provide actigraphs for rental
Initialize, download and primary analysis of actigraph data using manufacturer program

Implement a robust online sleep diary (eDiary or REDCap) with real-time consistency checking. The online dairy can be administered 1 or 2 times per day and include multiple question response types (e.g., HH:MM time, checkable buttons, sliding scale, open text)
Integrate the online diary with actigraphy files
Conduct Pupillometry
Other (special requests)

oversee advanced signal analysis of the actigraphy data
train and support staff in use of actigraphy and the online diaries
facilitate interactions with other faculty with expertise in circadian and sleep research;
provide data and support human research projects including training new investigators
 Please contact Dr. Klerman at ebklerman@mgh.harvard.edu about the Core to order services through this website.
Sample text for grant applications (including Budget Justification section) and IRB protocols is available.
Core Fees are listed below. Each project is responsible for including the data collection and analysis on their IRB protocols.
Core Fees:
| | | | |
| --- | --- | --- | --- |
| Service | Internal MGB | External Academic/Non-Profit | External Industry |
| Start-up fees per project - no new questionnaire | $230.00 | $331.20 | $365.70 |
| Start-up fees per project - with new questionnaire | $505.00 | $727.20 | $802.95 |
| Actigraphy rental, initiation, download, primary analysis using the manufacturer program (per participant-week) | $98.00 | $141.12 | $155.82 |
| Actigraphy initiation, download, primary analysis using the manufacturer program (per participant-week) | $85.00 | $122.40 | $135.15 |
| Actigraphy rental only (no initiation, downloading or processing of data) | $13.00 | $18.72 | $20.67 |
| eDiary Sleep/wake Log (per participant-week) | $85.00 | $122.40 | $135.15 |
| REDCap Sleep/wake Log (per participant-week) | $85.00 | $122.40 | $135.15  |
| Combined Actigraphy and eDiary Sleep/wake log (per participant-week) | $110.00 | $158.40 | $174.90 |
| Combined Actigraphy and REDCap Sleep/wake log (per participant-week) | $130.00 | $187.20 | $206.70 |
| Pupillometry | $200.00 | $288.00 | $318.00 |
| | | | |